With the addition of Workspaces by globaledit, clients can control access and permissions to different sections of their Globaledit account. While workspaces and folder structures are fully customizable, it's helpful to start by determining how you currently organize your projects, who needs access, when they need access, and what they need to be able to do. Alternately, if you are thinking about changing the parameters for your account, consider consulting with your Account Manager, as well as our Digital Experience team here at globaledit for best practices built specifically for your company.
To create a new workspace, click on the menu button next to "Workspaces" under the Globaledit logo, then click "New Workspace" and give your workspace a name.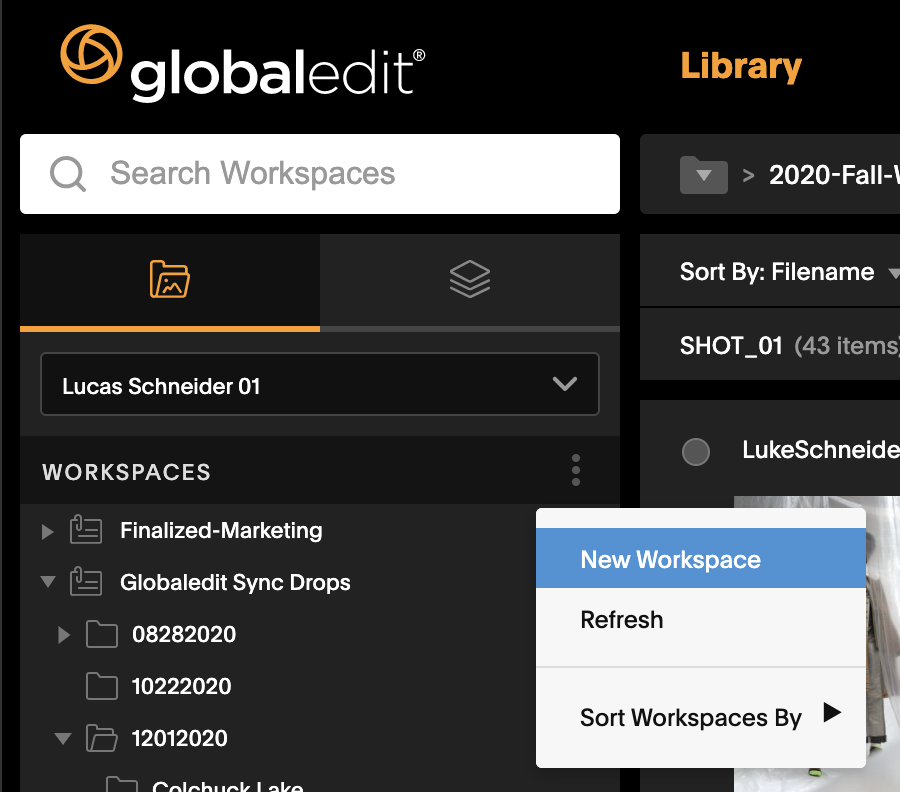 In order to grant users access to this workspace, click on Admin, then click Users, then Active.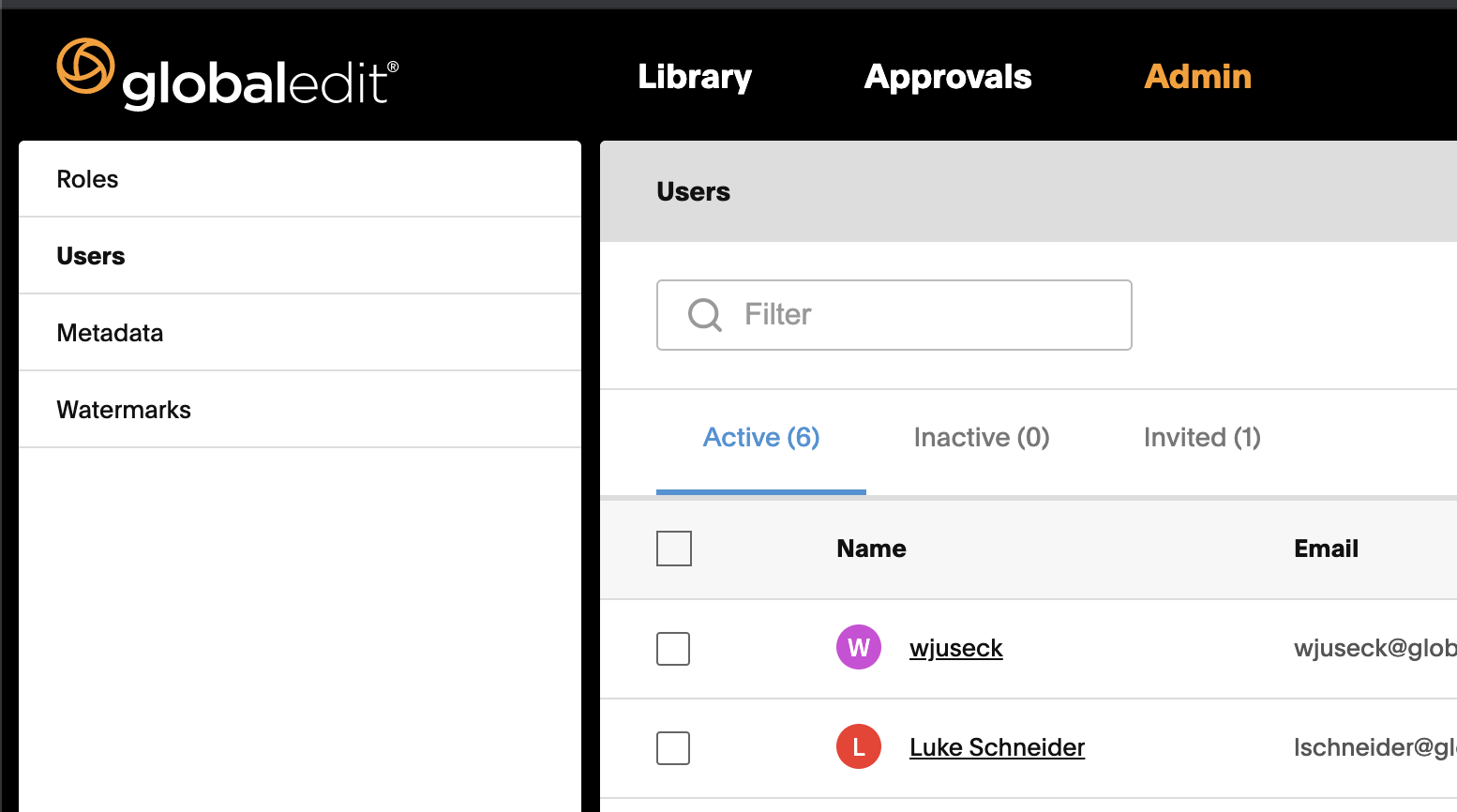 Next to the user you'd like to grant access for, click the dropdown titled Action and click Assignments

This will bring up that user's current assignments. In this case, Wjuseck is assigned to "Work-In-Progress" workspace as an Art Director, and "Globaledit Sync Drops" as a Digital Tech.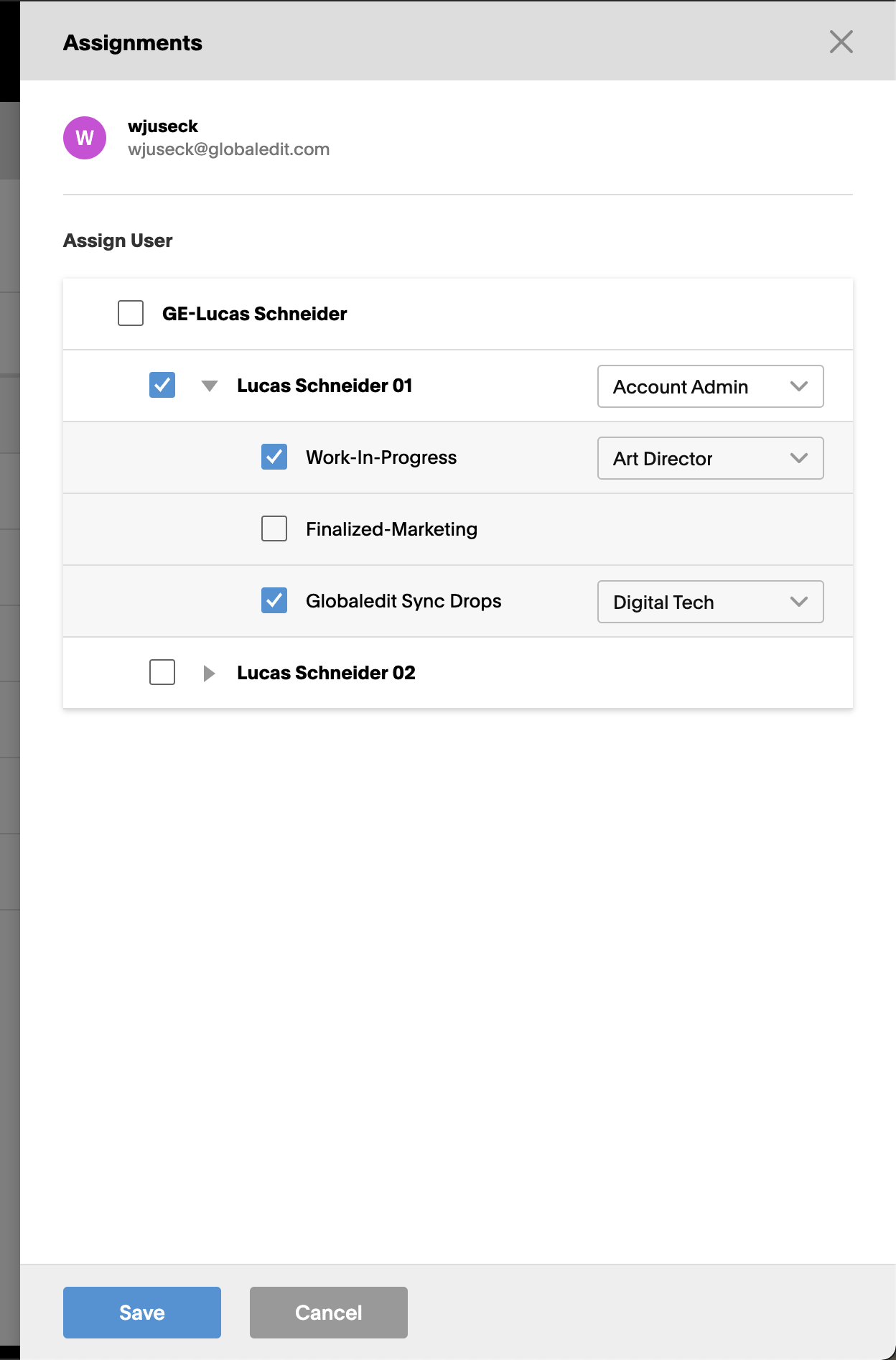 If a user's assignments need to be changed, enter the assignments panel at any time from the Users Admin menu and grant or remove access by clicking the check box next to the desired workspace, being sure to assign a role as well.
Workspaces, in combination with Roles & Permissions, is one way globaledit allows clients to control user access and protect assets. For example, if the Marketing team would like to be able to view projects currently in production, but you want to ensure those assets don't accidentally make it into marketing materials before they're finalized, you can assign marketing users access to that specific workspace with no download permissions.
Folder Structures
Like Workspaces, folder structure is vital for keeping your globaledit account organized. Folders live within a workspace, so individual permissions and assignments do not need to be changed per user.
While every team has their folder structure set up slightly differently based on their specific needs, it's simple to try a new folder structure on your next project with globaledit. With the addition of globaledit SYNC, Digital Tech's can automatically upload folders with subfolders to maintain capture folder structures on set, which may be separated by Day, Set, SKU, shot number, CaptureOne rating, or more.
Let's take a look at a simple folder structure for a 3 day, 5-shot photoshoot that has been ingested via SYNC. A folder structure for a digital tech to create on the capture station would be separating the project out by Days first, and then Shot numbers, as we see reflected in our globaledit folder hierarchy.
From here we have a couple choices based on our specific workflow. If we're utilizing globaledit's Collections and Project Assignments, maybe we don't need separate folders for final selects or for retouching rounds, so we can leave it here and get working.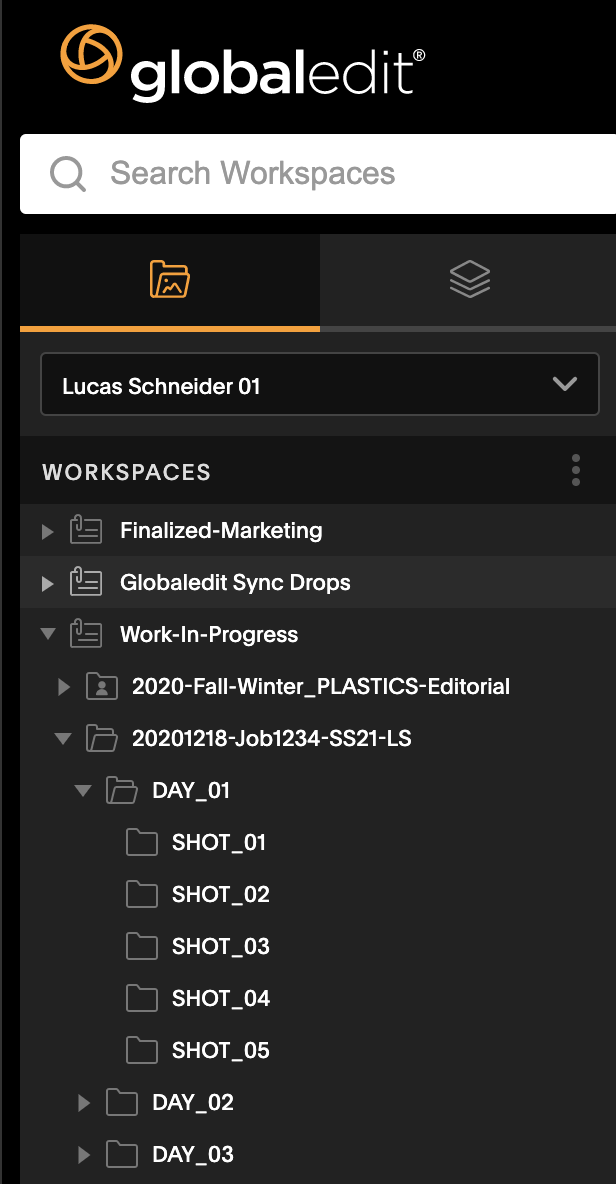 Some clients prefer moving selects into their own folder so it's easier to separate the content out later.
In this case, right click on the parent folder you'd like the new folder to go under and select NEW FOLDER to create subfolders that you can drag and drop selects into.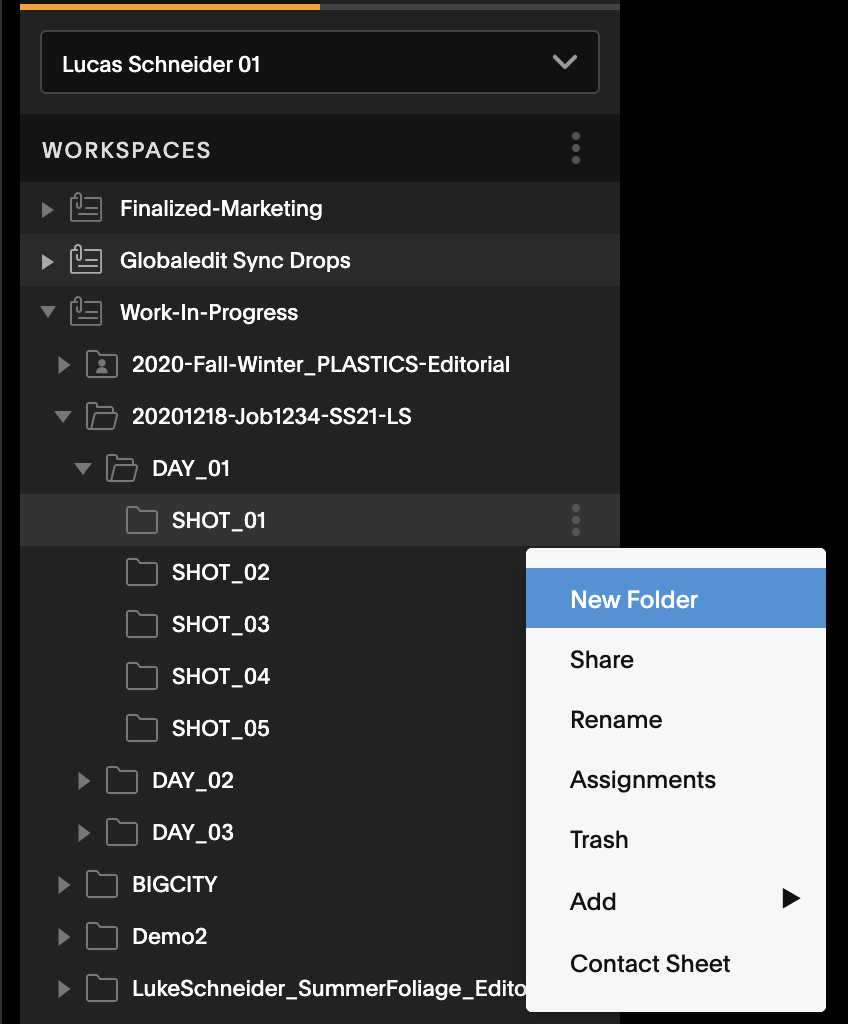 While Art Directors are making their selects, they'll be able to filter by color, rating, or label tag and drag and drop final selects into separate folders based on their selections.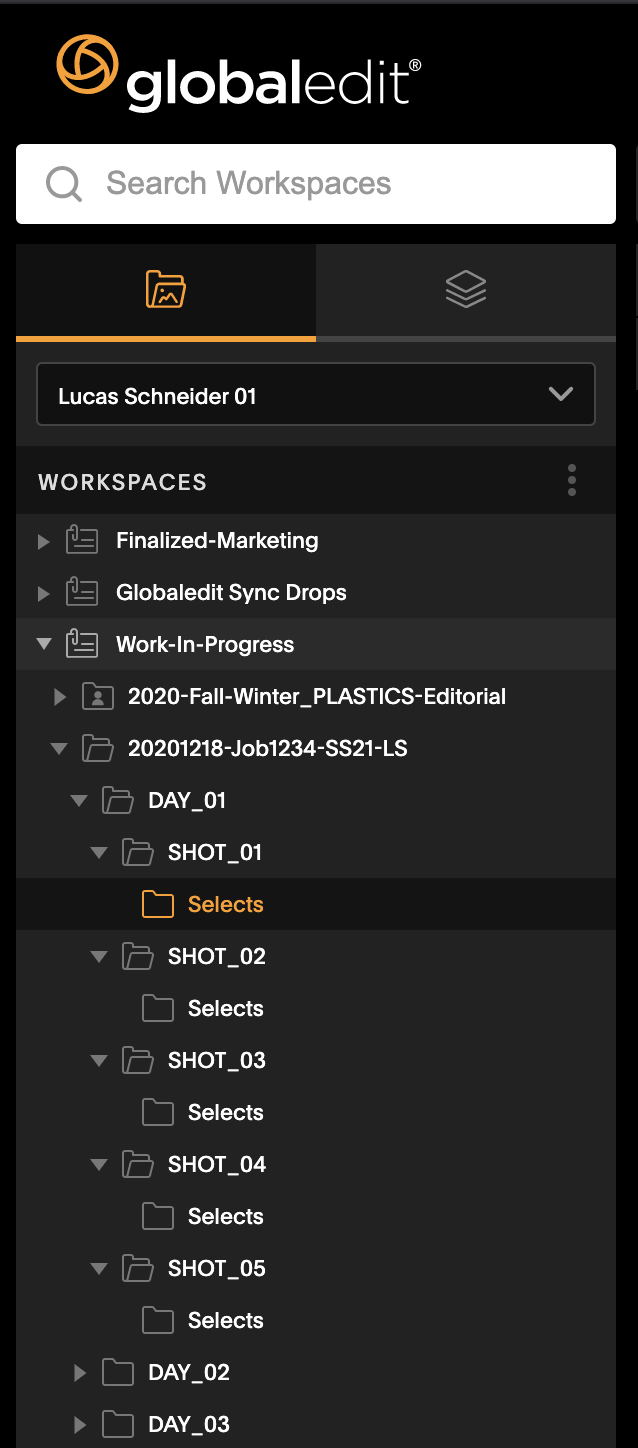 Another common practice is separating assets by file type or step in the post production process, where whole shots are uploaded as JPEGs, selects are made and then corresponding TIFFs are uploaded into a TIFF folder which retouchers then have access to download from.
In this case, it. might make sense to have separate folders for each round of retouching, where TIFF is unretouched, Round 1 is the first round, and so on until the images are all finalized.
Utilizing this folder structure, team members know clearly where the assets they need are located and can navigate even the largest libraries quickly.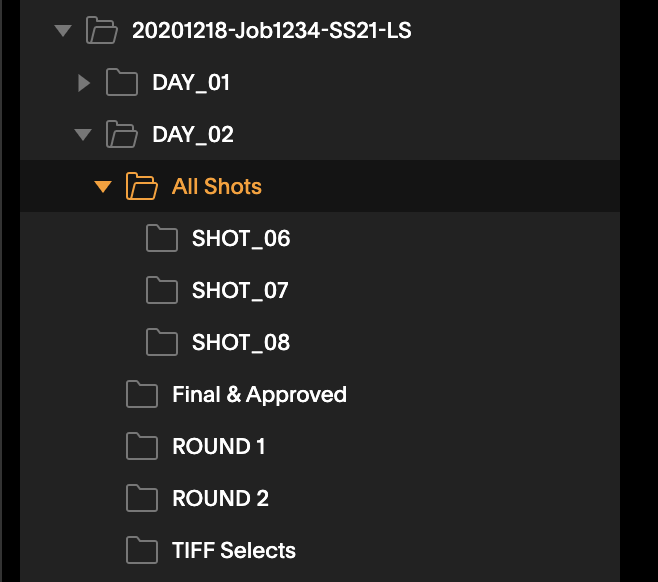 Because every team and company is different, if you are thinking of reassessing your standard folder structures to align with globaledit's Collections and Project Assignments features, consult your Account Manager or the Digital Experience team for best practices specifically geared towards your organization.