Welcome!
Your admin has invited you to join their organization on globaledit. You were sent an invitation via email to register and authenticate your account.
Here's an outline of what to expect while signing up to globaledit: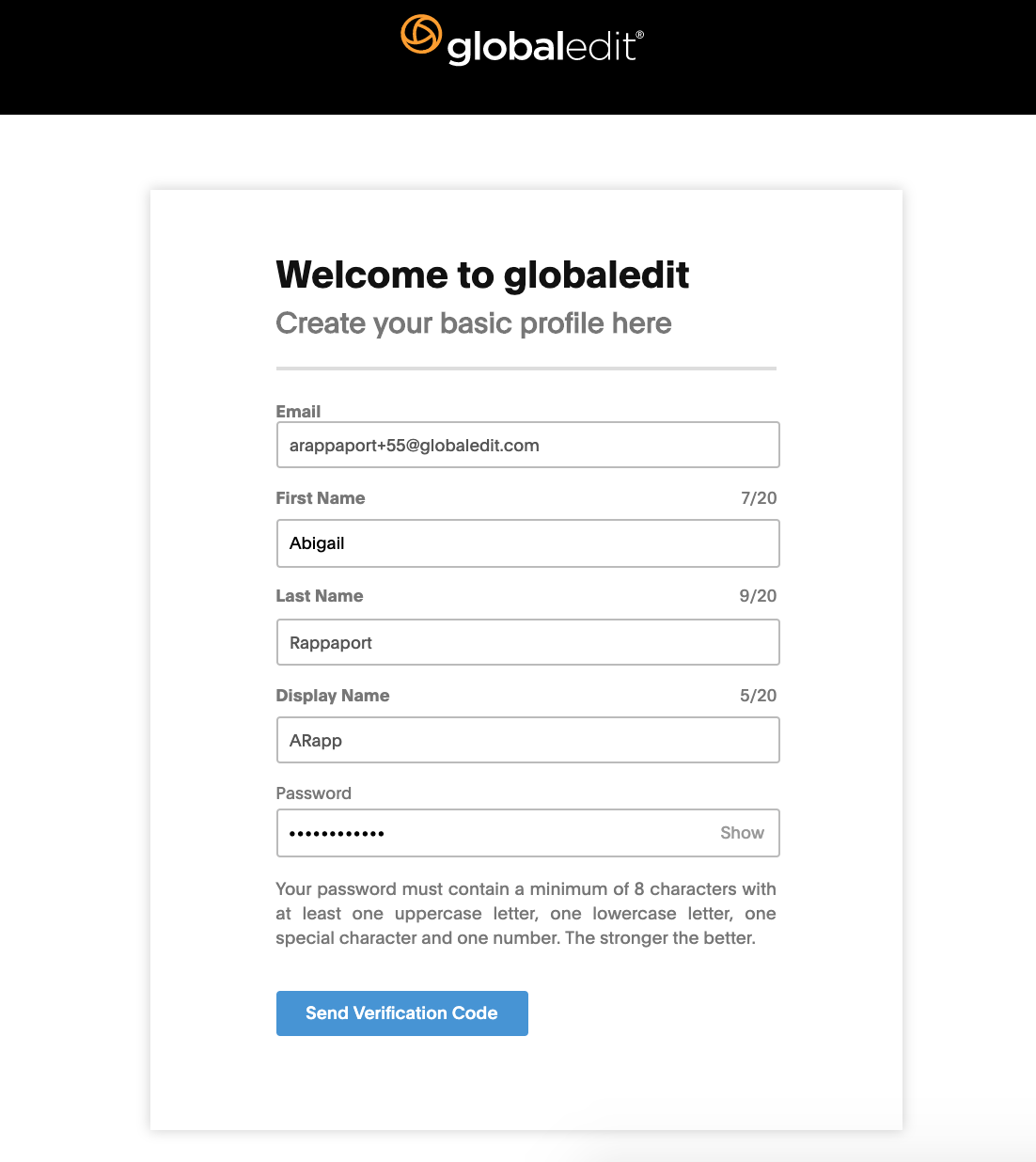 Select the invitation link sent to your email

via the browser

Confirm:
Your email

First name

Last name

Choose your display name

Choose a password
Select Send Verification Code to verify your email
Verification code will be sent to your email address
Input the verification code in globaledit
You'll be redirected to the login page
Input your email and password on the login page
Set up 2FA - you can read about how to do so here.
You'll be redirected into your organizations library
Troubleshooting:
I didn't receive the invitation. Now what?
The invitation might have gone to your spam folder, was accidentally sent to the wrong email by the admin, or perhaps just got buried in your inbox.
Whatever the case may be, request the admin to resend the invitation.
If you still have not received the invitation after it's been resent, ask the admin to double check the email associated with the invitation.
If the issue persists, please contact support@globaledit.com.
Invitation Link doesn't work:
It's best to open the invitation link via Google Chrome or Safari.
Opening the invitation link in an app like iMail or Outlook can cause the link to break upon delivery due to security features of these apps.
Also, please ensure globaledit is whitelisted with your IT department. Firewalls can prevent users from opening the invitation link.
Stuck on Settings page after sign up:
This sometimes happens at the tail end of singing up right before entering the account for the first time. This is being resolved, but here's what you can do:
Close all globaledit tabs

Click on the original invitation link used to signup

The link will direct you to the login page

Login with your email and password
I'm logged in but I don't see anything (or what I'm looking for) in the Library:
It's most likely that your admin has not assigned you to any Roles or Workspaces yet, or forgot to assign you to the Workspace or Collection you're looking for.
Contact your Admin and let them know.
If your Admin confirms you are assigned to Workspaces, try logging out and logging back in, clearing your cache, and if that doesn't help - please contact support@globaledit.com or your Account Manager.