With @mentions, you can alert someone directly in a comment on the Asset, Workspace, Folder, or Collection level. The @mentioned user will be notified via email with a link to the comment where they reply directly in a thread.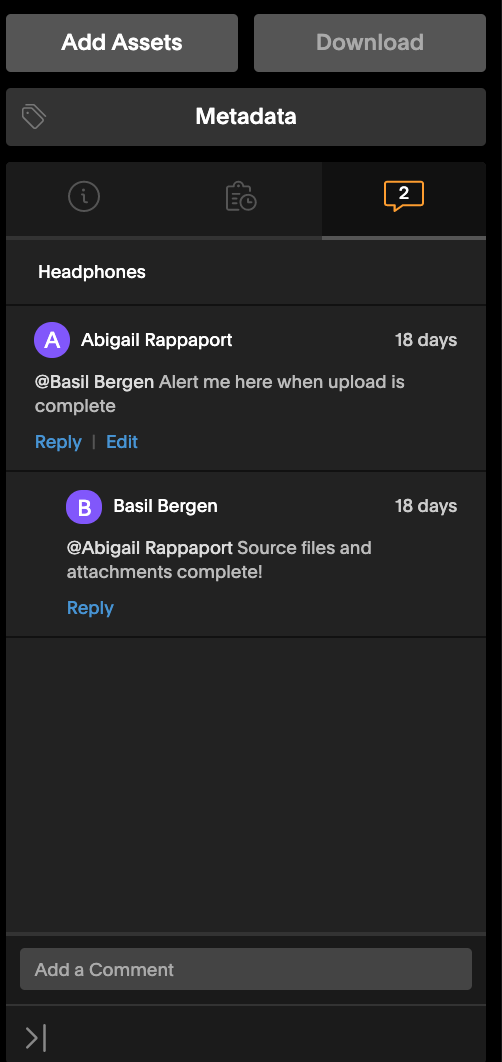 How to use @mentions
Select an asset, folder, Workspace or Collection, then navigate to info panel on the Right

Select the Comments tab (the icon with the text bubble)

In the Add a Comment field below, include an

@

before typing the username you'd like to @mention.

Type the full username or select the user from the menu.

Click Save.

An alert will be sent to the recipients email with a link to the comment

Continue the conversation by selecting

Reply

and adding to the thread.

The comment icon will display the number of comments in the selected area.
For a user to be @mentioned, the user needs to have a valid login for the organization. If the users name does not populate, try to @mention the user with their email address.

We're here for you!
If you have any additional questions, please don't hesitate to let us know!
Email: support@globaledit.com
Phone: (888) 433-4801
Hours: Monday - Friday 9AM to 9PM Eastern Standard Time