What are Share-Links?
Share-Links are an easy way to share assets externally with no log in required for the recipient. Anyone who has access to the URL is able to view and download assets without restriction. Share-Link's assets are not affected by library changes unless an asset is deleted from the library itself, in which case that asset is no longer available in any Share-Links. This feature is intended as a delivery mechanism with ease of use for both the creator and recipient. If a more collaborative experience is needed, features such as Collections might be a better fit.


How to create a Share-Link
Users must have the appropriate permissions to create a Share-Link (see the To Enable section).
Simply right-click and select "Downloadable Share-Link" from the context menu from:
A folder, which includes all assets in the select folder

Selected Assets

Search, by selecting individual assets*

Collections, by selecting individual assets

Projects, by selecting individual assets
*limited to 5,000 assets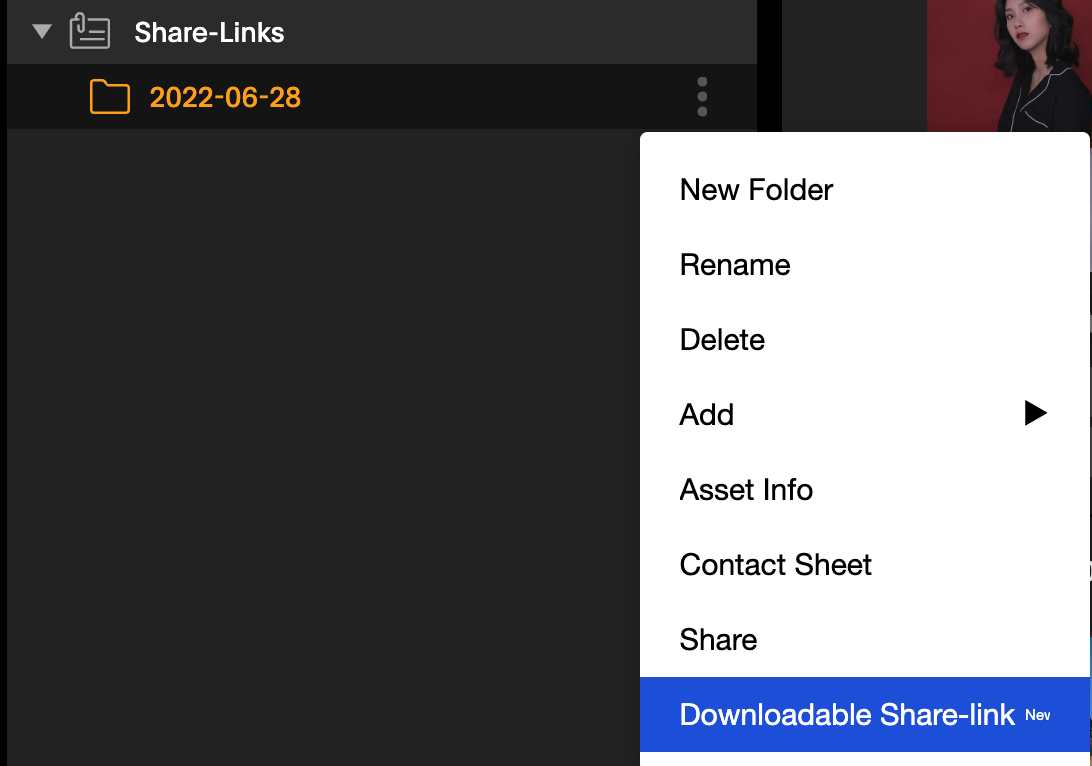 Folder Context Menu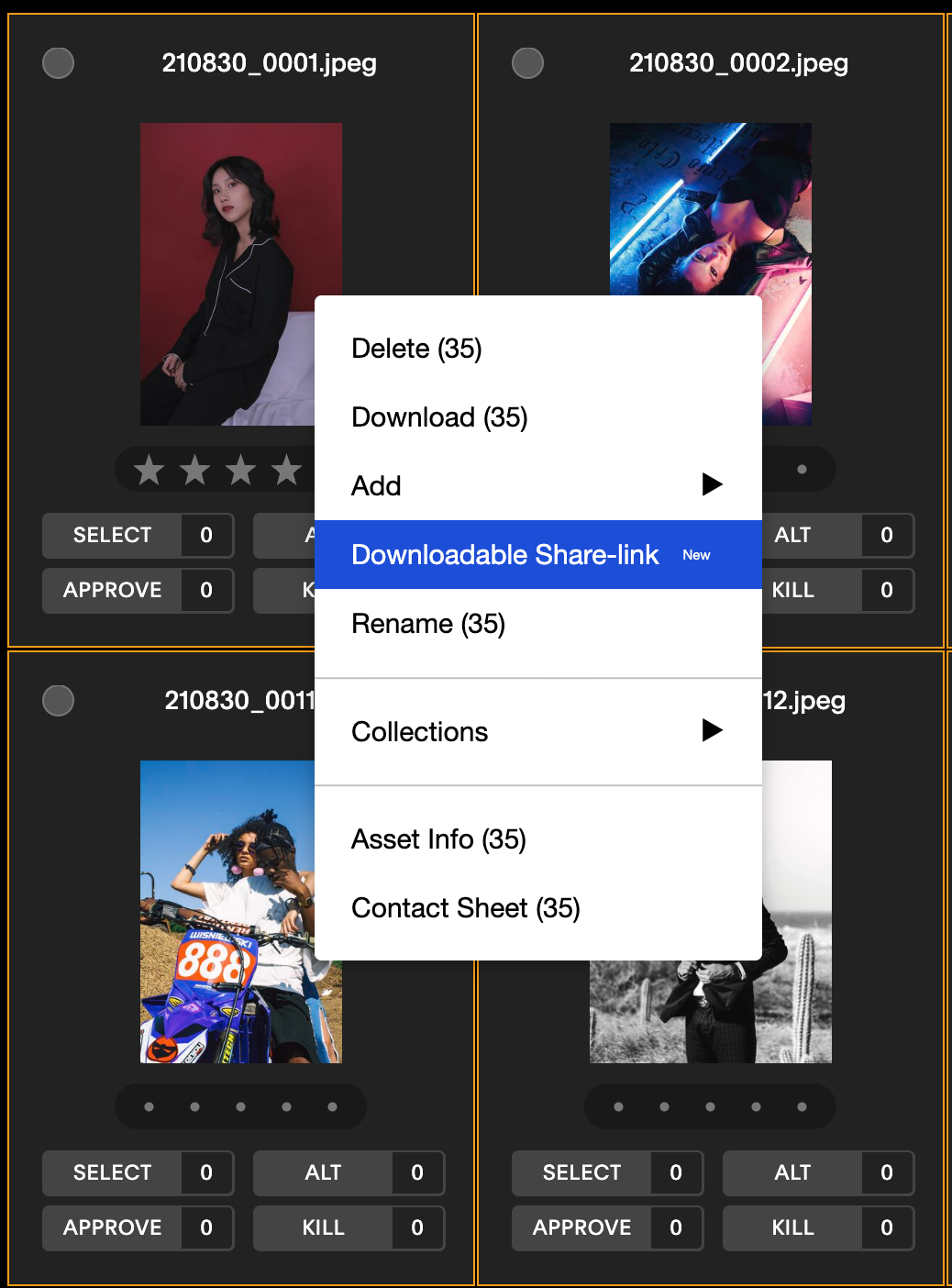 Individual Assets Context Menu
In either methods, click the Create and Copy Link button at the bottom right of the window. The Share-Link URL will generate and copied to your clipboard. Please note that once this window is closed, there is no way to retrieve a Share-Link URL.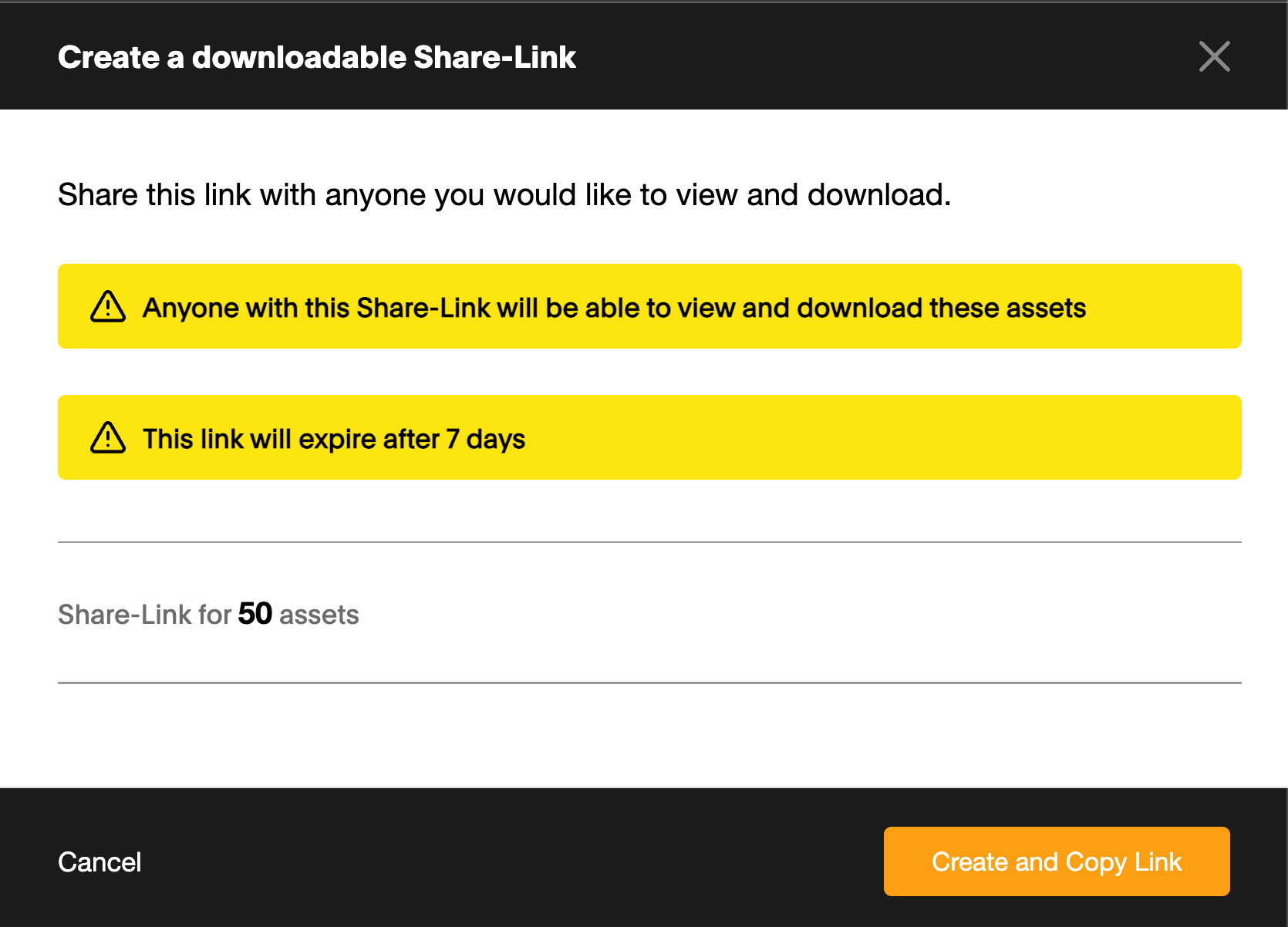 Pre-creation of the Share-Link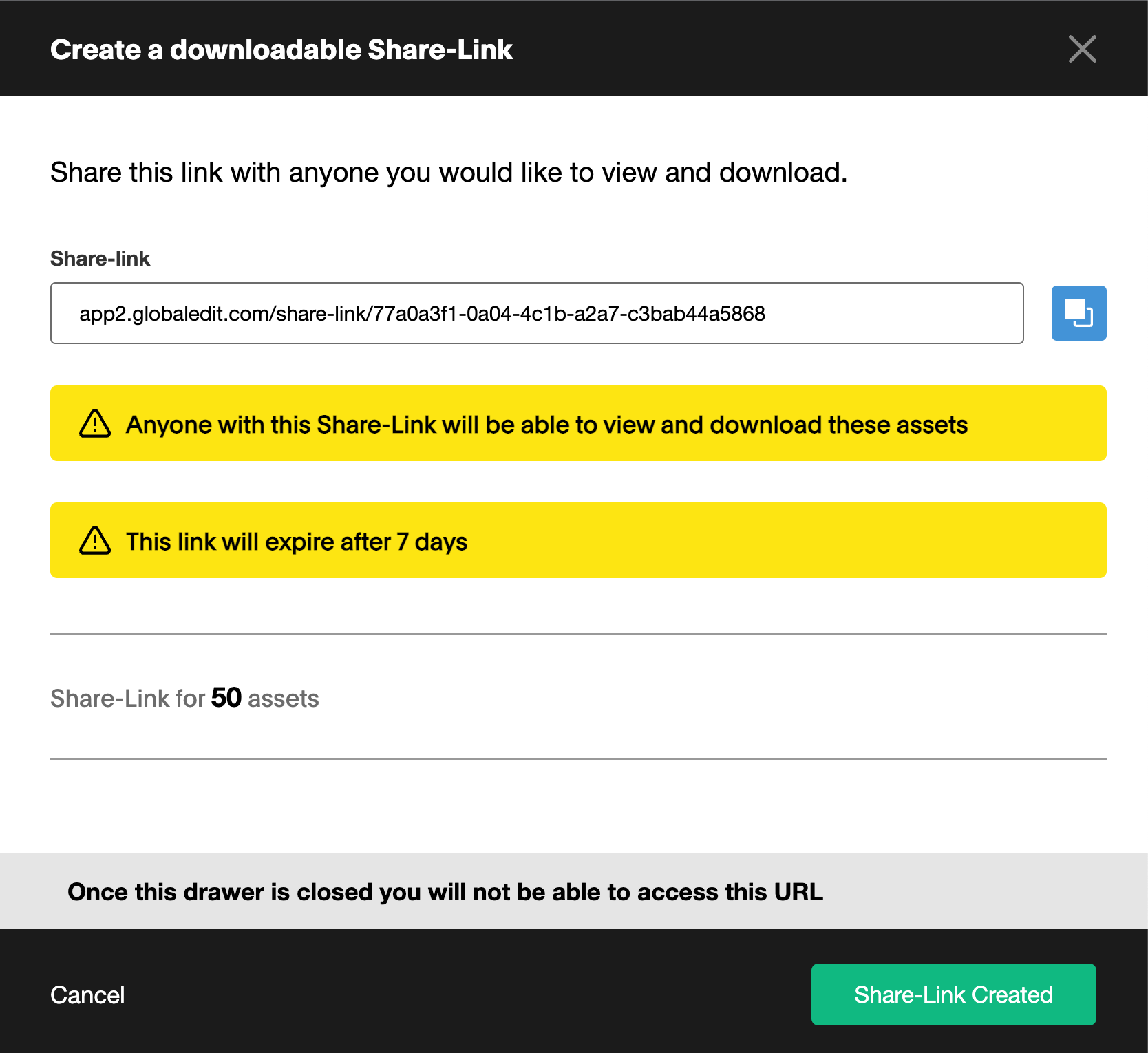 Share-Link Created
The recipient will immediately be able to view and download all assets within once the URL is shared.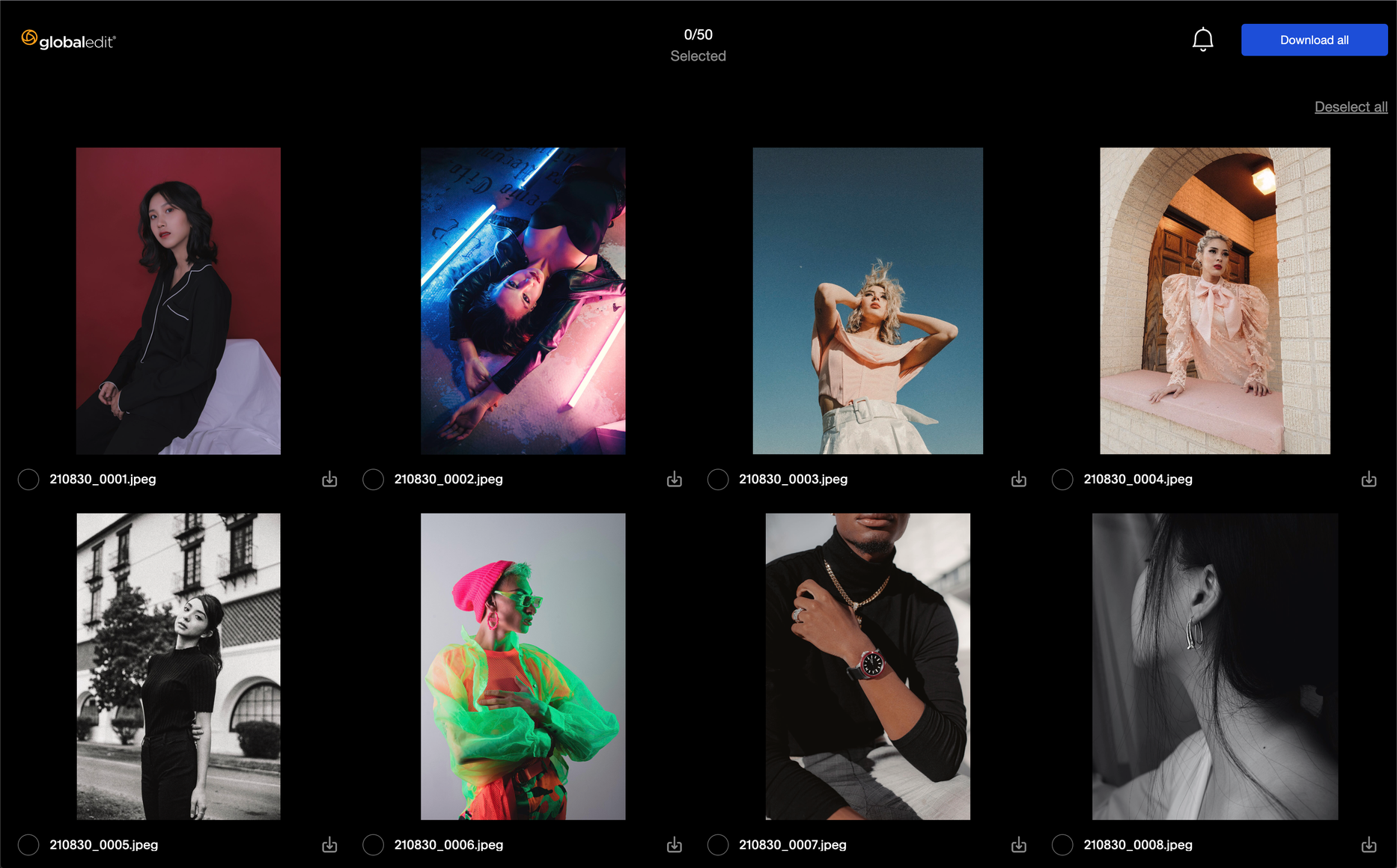 Share-Link Recipient View
To Enable
Team and Enterprise plans: Please contact your Account Manager to enable Share-Links.
The ability to create Share-Links is controlled by the Account Role policy: 'Create Share links that can be accessed by anyone, including those outside of globaledit'. The Account Admin role has this enabled by default
Note:

The Share-Links Account Level Policy will supersede any workspace level restrictions, therefore this policy should only be granted to users who also have permission to download and view assets without watermarks in Workspaces.
Starter Plans
Users with the Starter Admin role have Share-Links enabled
Share-Links Capabilities
Types of sharable assets
Original assets

Latest Asset Version

All assets currently supported as source assets (no attachments, markups, xmp, jpg previews)
Sharing locations
Folder

Folder option to share entire contents of folder

Will not add assets from sub folders

Selection of individual assets from current folder view

Collections

Selection of individual assets from current collection view

Projects

Selection of individual assets from current project view

Search

Selection of individual assets from current search view

Limited to 5,000 assets
Limits
| | |
| --- | --- |
| 5,000 assets per Share-Link | No download restrictions |
| Original assets / Latest Version only | Cannot revoke access |
| No metadata stamping* | Cannot add additional assets to an existing Share-Link |
| No watermarking capabilities | All Share-Links expire in 7 days |
| No sharing of markups | Cannot reopen an expired Share-Link |
| No sharing of attachments | Assets will not update with library changes* |
*Exception: Metadata stamped on assets prior to original upload to globaledit will remain on assets downloaded from Share-Links
*Exception: If an asset in a Share-Link is deleted from the library it is also removed from the Share-Link