Enhancements
New version of the globaledit Photoshop plug in. Additions and enhancements include:
• Accessibility of assets within the globaledit Photoshop plugin has now been expanded to access via Collections as well as Projects.
• Additional visibility of ratings and labels within the Photoshop plugin
• Ability to comment and @mention on assets from within the Photoshop plugin, allowing Retouchers to complete jobs from end to end without leaving Photoshop.
• Added filtering abilities within the Photoshop plugin lets your team find exactly what they're working on.
• To download the latest version of the Photoshop plugin please visit the Adobe Exchange.
• For more information on the globaledit Photoshop plugin please visit our plugin guide.
A new Welcome Page where users can find tutorials such as a walkthrough on creating Workspaces and a video explaining how to share Workspaces and Collections. Expect to see new video explainers posted to the Welcome page regularly.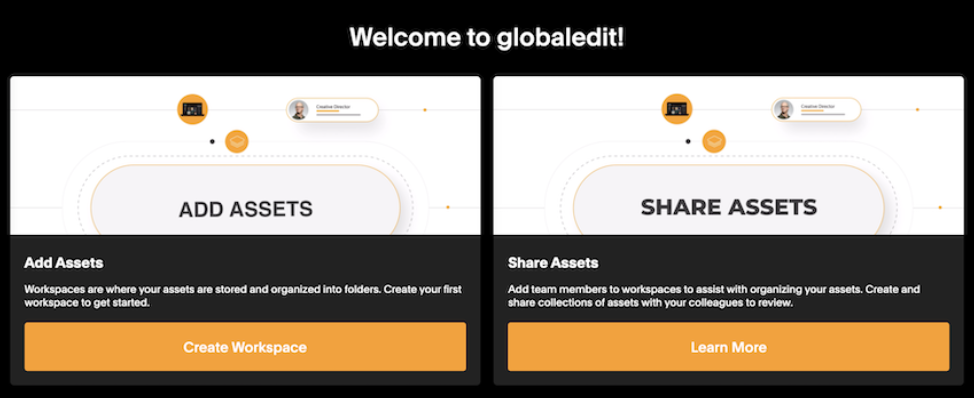 A new Simple Share option in Workspaces and Collections. All current members of a shared space are now visible directly in the workspace. New users can be invited and permission access granted seamlessly from where you're working to manage your team more efficiently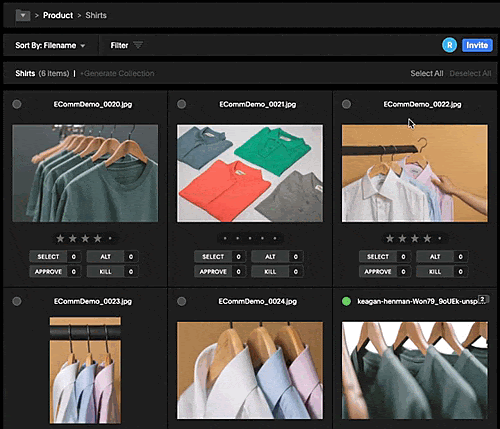 New interface for Admin users with increased visibility of permissions and roles when managing users. Administrators can now view role assignments on a broader level via the Admin page.
Improved permission access requests through Collections view
Updated folder information view in metadata panel
Favorited collections are now highlighted visually
Improved upload/download status messaging
Increased drag and drop functionally when moving assets in Library. Use one click to intuitively organize your Library
Bug Fixes
Searching All Metadata fields now returns values from Dropdown and Multiselect fields in custom metadata schemas.
Notes field for messaging in Approval Galleries is consistent when galleries are shared
Fix for metadata stamping on assets with mismatched file extensions
Fix for Insert tag in bulk file renaming interface
Asset ratings visible after loading 5,000 assets within recursive search
Fix for Markup button visibility after deleting assets in the Library
Folder collapse in Library view updated
Collection level @mention linking updated
Fix for selecting all assets when searching within Collections
Fix for asset selection saving after viewing in 2-Up mode
Fix for Collection archiving
Increased stability for Placement view when expanding/collapsing info panels
Fix for Share links directing users to specified folders
Fix for improved accessibility of user base for @mentions within Markups
Fix for metadata schema visibility within search results
Login page refreshing updated
File extension fix for original asset downloads
Upload view fixed when adding assets through Grid view
Password verification code email updated
Improved consistency for Retry Download button
Fix when assigning roles to users
Improved globaledit Sync uploads with verified upload counts
Refresh function fixed in Project view
500+ additional bug fixes