Public Links are an easy way to share assets externally with no log in required for the recipient. Anyone who has access to the URL is able to view and download assets without restriction. Public Link's assets are not affected by library changes unless an asset is deleted from the library itself, in which case that asset is no longer available in any Public Links. This feature is intended as a delivery mechanism with ease of use for both the creator and recipient. If a more collaborative experience is needed, features such as Collections might be a better fit.
How to create a Public Link
Select assets or a folder, then click

Create Public Link

in the

Share

menu at the top right or via the right-click dropdown menu: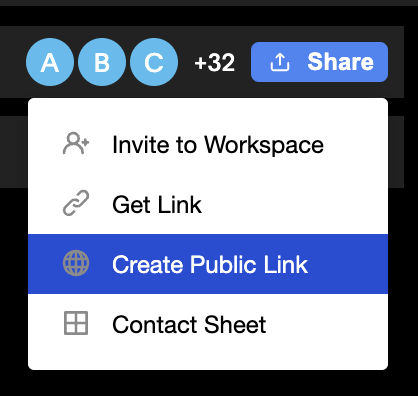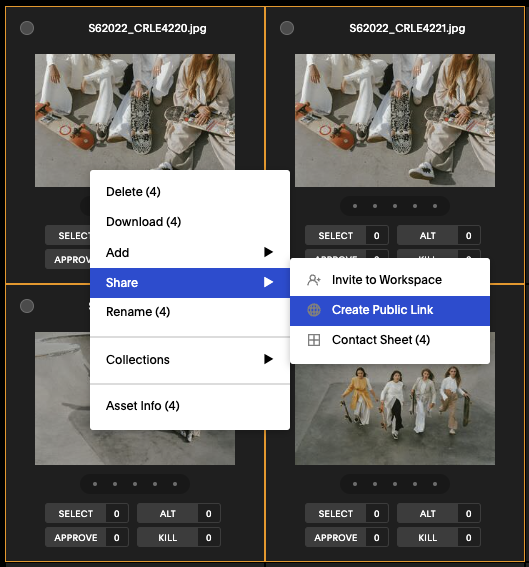 Individual Assets Context Menu
You can choose to password protect your Public Link by toggling-on this option and creating a password in the

Create a Password

field.

Click

Create and Copy Link

at the bottom right of the window to generate the Public Link and automatically copy the URL to your clipboard.


The recipient will immediately be able to view and download all assets within once the URL is shared. Recipients do not require a login to your globaledit library to access the Public Link: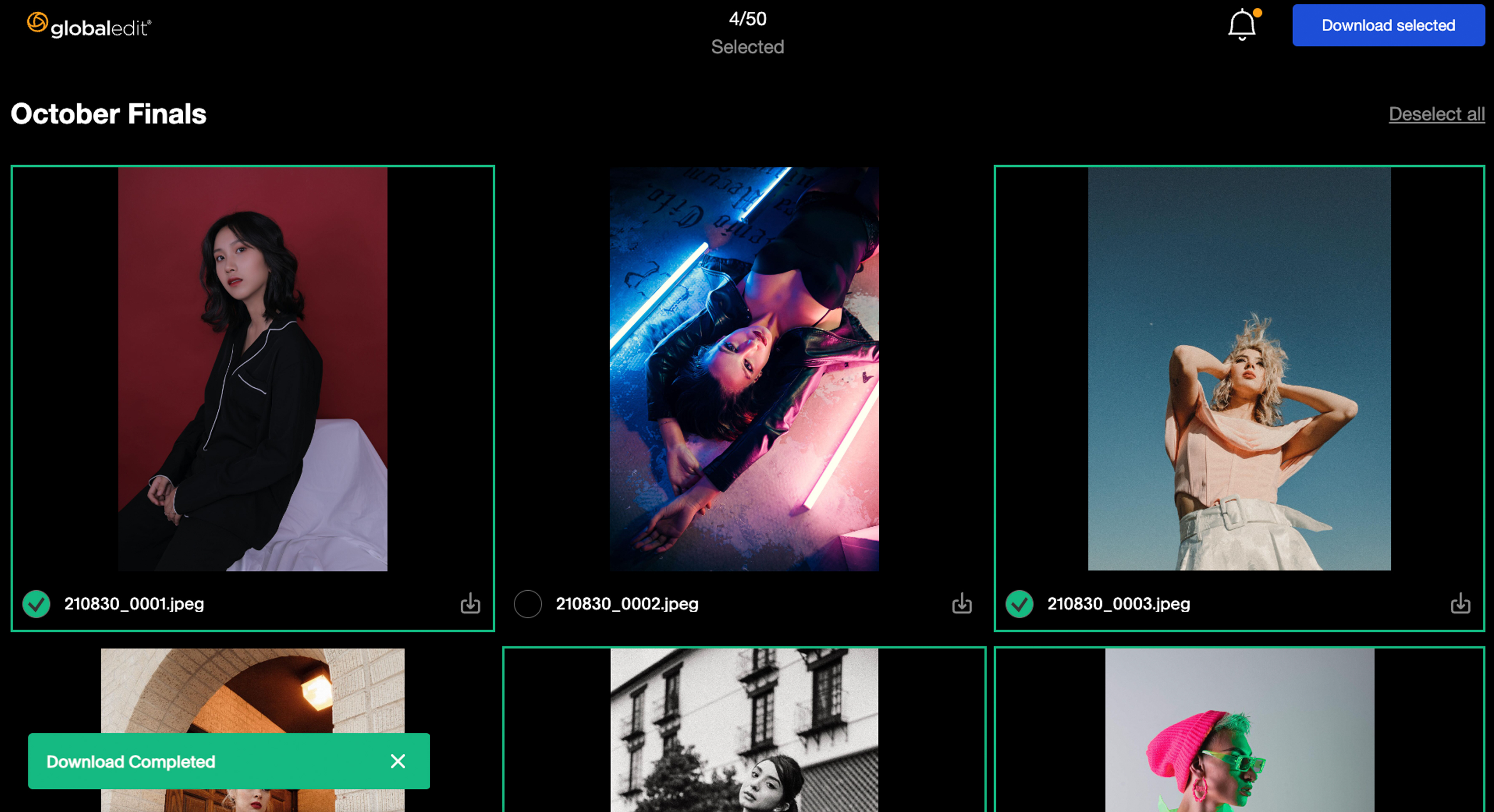 Public Link Recipient View
Managing Public Links
Public Links will be live for 7 days unless reopened in the Inactive tab in Manage Public Links.
Manage Public Links option can be found by clicking your profile icon on the top right corner.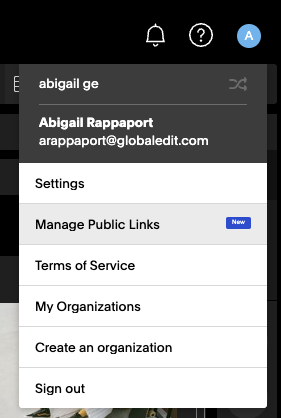 Profile Context Menu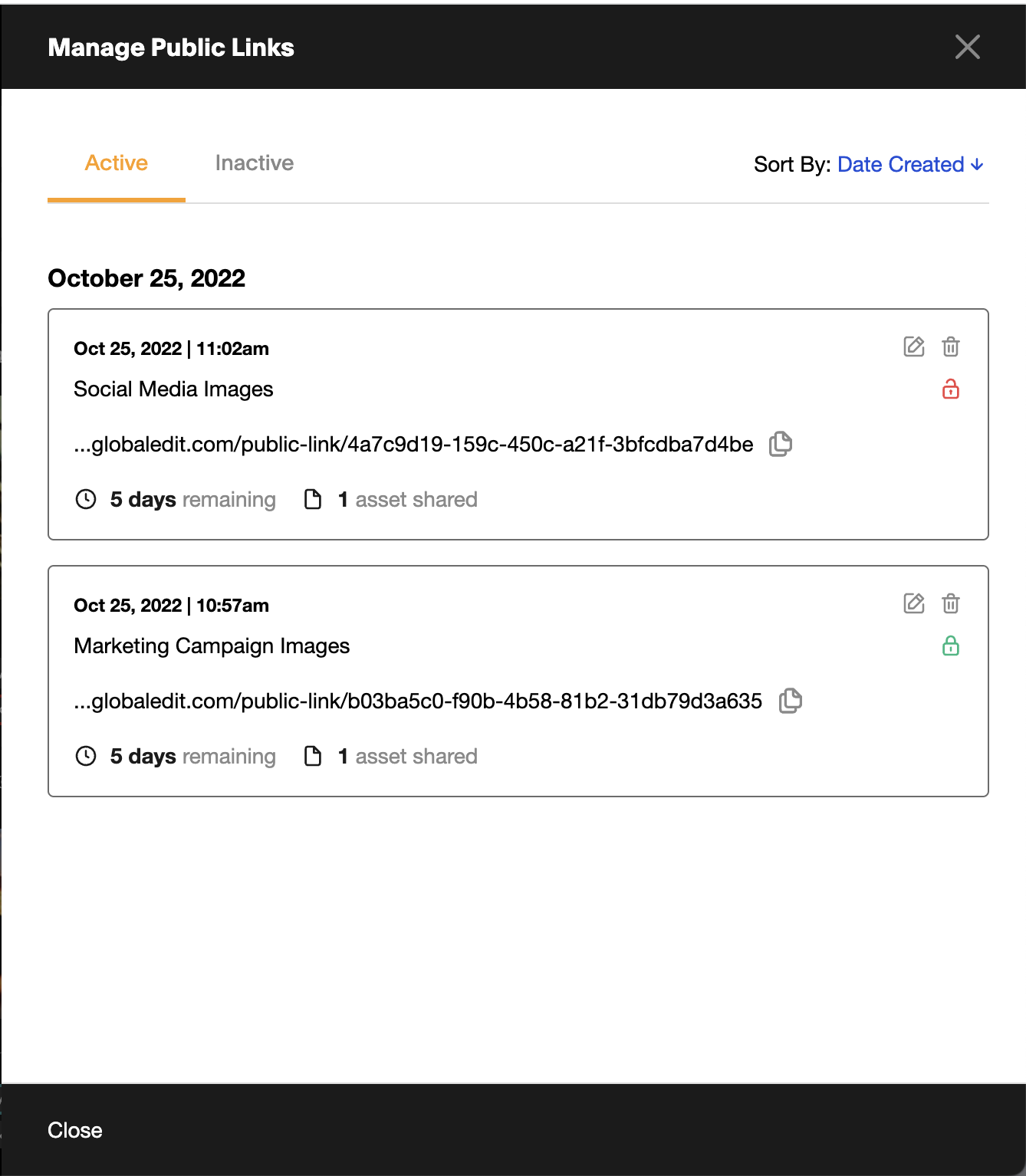 Manage Public Links Window
Within the Manage Public Links window, you are able to view, edit and remove any Public Links you have created.
You can edit a

Public Link by clicking the Edit icon on any active Public Link

to change the title, copy the link, add or remove a password and extend the expiration date.

Extend or reopen an expired Public Link by clicking the reload icon.

Toggle-on the Password Protect option and add a password of your choice. Toggle-off to remove the password.

To copy an

existing Public Link to your clipboard,

click the copy icon next to the link.

To delete a Public Link from your globaledit, click the Trash icon within the Public Link you would like to remove. Deleted Public Links are no longer viewable and the link will be show as no longer available.
To Enable
Team and Enterprise plans
The ability to create Public Links is controlled by the Account Role policy: 'Create Public Links that can be accessed by anyone, including those outside of globaledit'. The Account Admin role has this enabled by default.
Starter Plans
Users with the Starter Admin role have Public Links enabled.
Public Links Capabilities
Types of sharable assets
Original assets

Latest Asset Version

All assets currently supported as source assets (no attachments, markups, xmp, jpg previews)
Sharing locations
Folder

Folder option to share entire contents of folder

Will not add assets from sub folders

Selection of individual assets from current folder view

Collections, Projects, Search

Selection of individual assets
Limits
Individual Public Links are currently limited to 5,000 assets. Assets are not watermarked, stamped with metadata, or updated with library changes with the exception of deleting assets contained in an active Public Link from your library.
We're here for you!
If you have any additional questions, please don't hesitate to let us know!
Email: support@globaledit.com
Phone: (888) 433-4801
Hours: Monday - Friday 9AM to 9PM Eastern Standard Time