All industry standard rating systems including Color, Star, Select, Alt, Approve, and Kill Labels are available within the platform. All asset ratings are global and consistent across the Asset Library, Collections, and Approval Galleries for all users. For example, rating an image Select would rate this image as Select for all users in all locations where this asset appears. Asset Ratings are a way to communicate asset value. They provide a systematic way to rate assets by quality.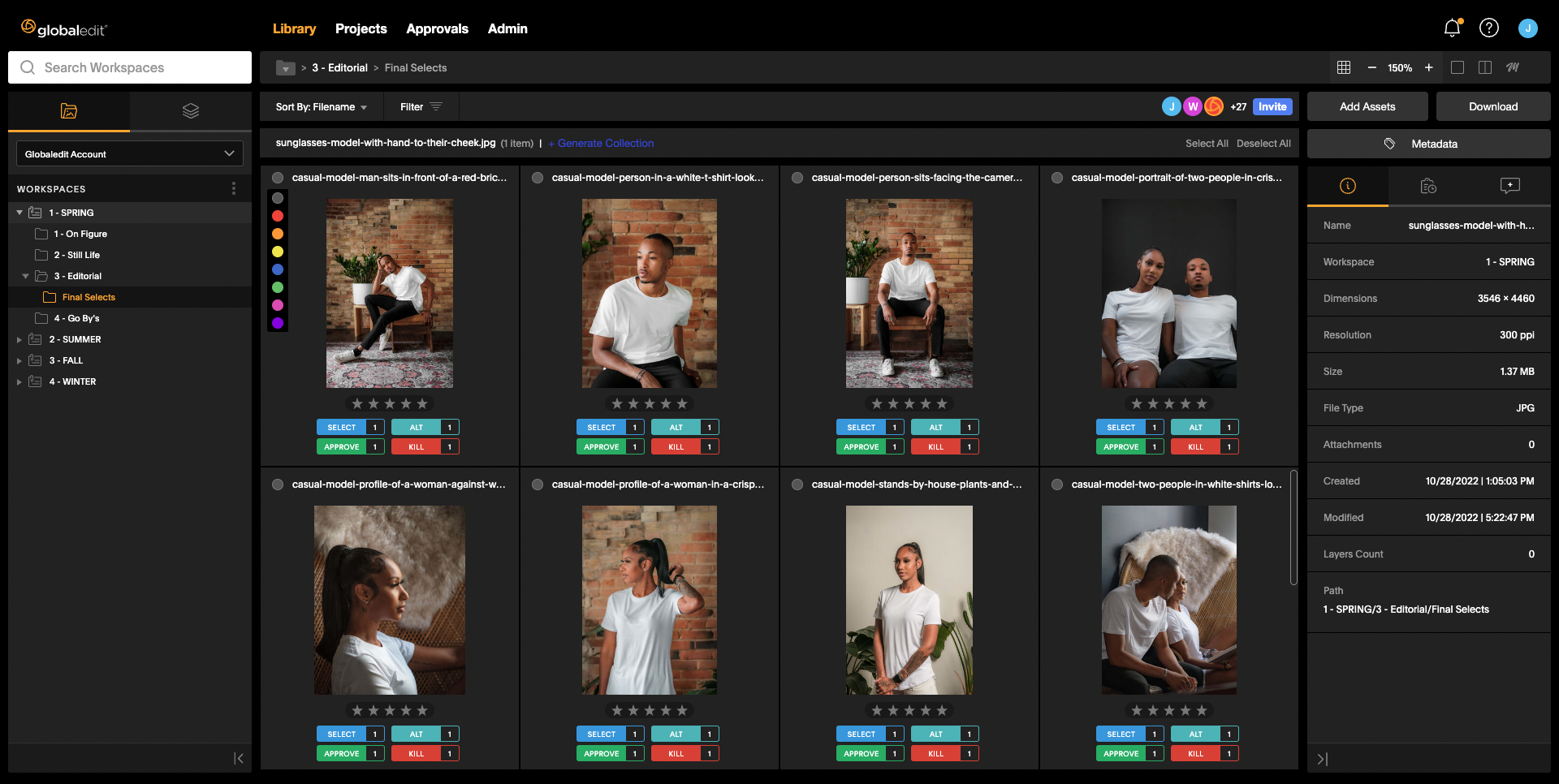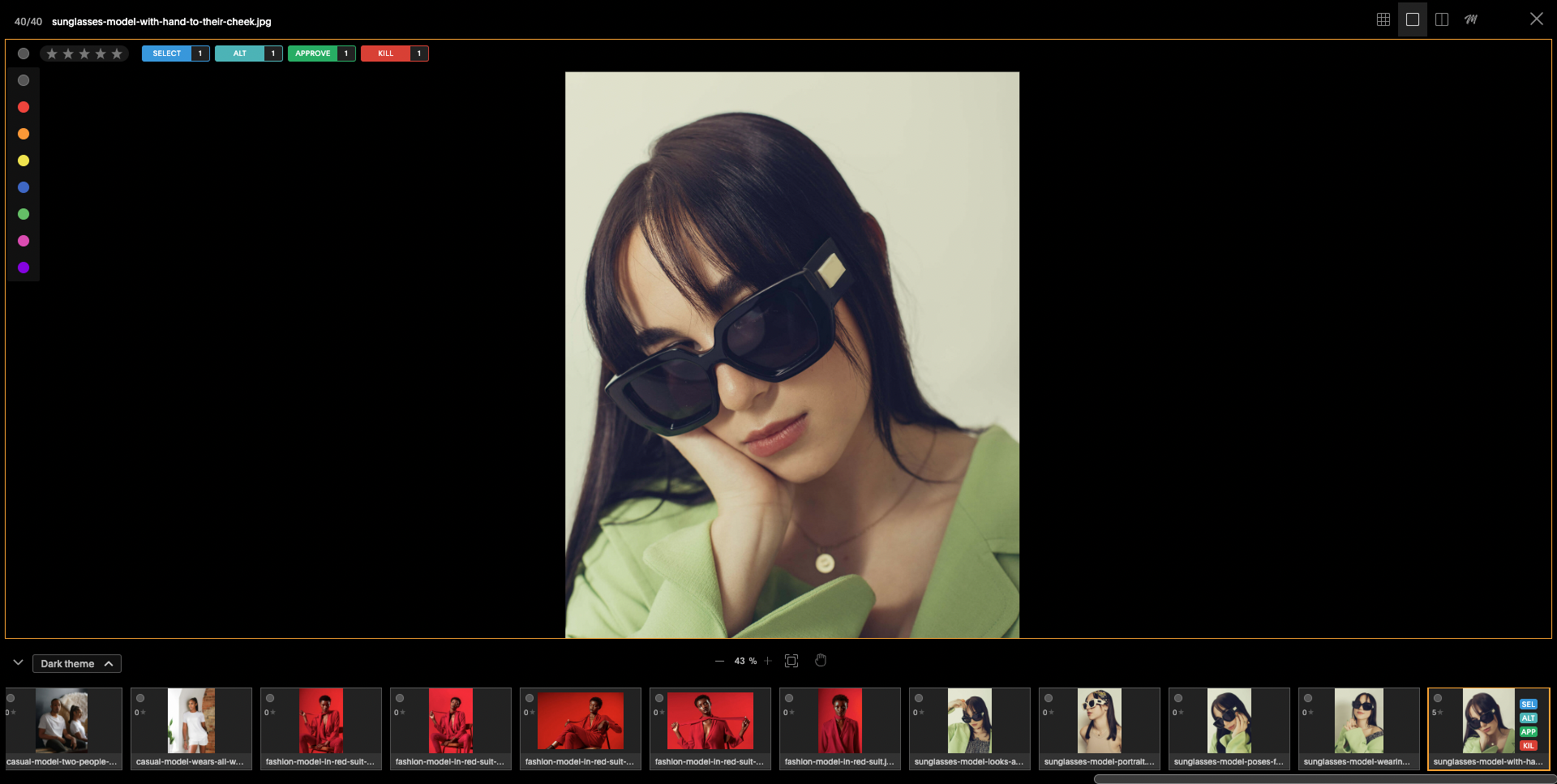 Ratings
Each team should clearly define what each rating means as personal interpretations can vary. That being said, the standard interpretations are as follows:
Select - Usually indicates a primary selection. Mark select by clicking the Select button or by pressing 6 on your keyboard.
Alt - Usually an alternative or secondary selection. Mark alt by clicking the Alt button or by pressing 7 on your keyboard.
Approve - Usually a green-light for use. Assets may be approved through the library or through approval galleries. Mark approve by clicking the Approve button or by pressing 8 on your keyboard.
Kill - Usually an indication that the asset is Asset is killed by user. Assets may be killed through the library or through approval galleries. Mark kill by clicking the Kill button or by pressing 9 on your keyboard.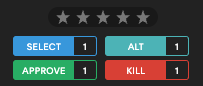 Color Labels - Assign unique meaning to color labels to help you organize and make secondary ratings. Keyboard shortcut Command-Shift + 0-7 will assign color labels.

Stars - Mark stars by clicking the star buttons or by pressing 0 - 5 on your keyboard


Ratings Collaboration
Users who have been added to a workspace and who also have the ability to modify ratings can tracked two unique ways.
Asset label ratings that are fully colored have been selected by the user. Asset label ratings that are outlined with color have been rated by a different user than themselves.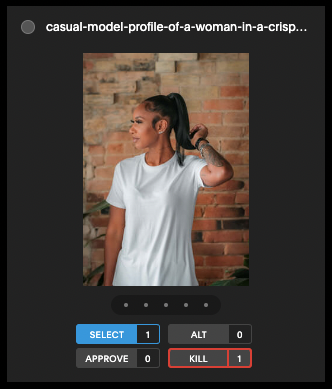 By double clicking on the number next to a Label, a sub-window tracking user selects will open. By toggling through the Select, Alt, Approve, and Kill tabs, users are able to discover which user has selected that respected label.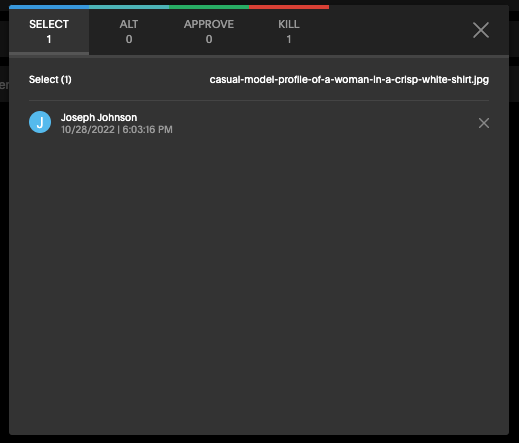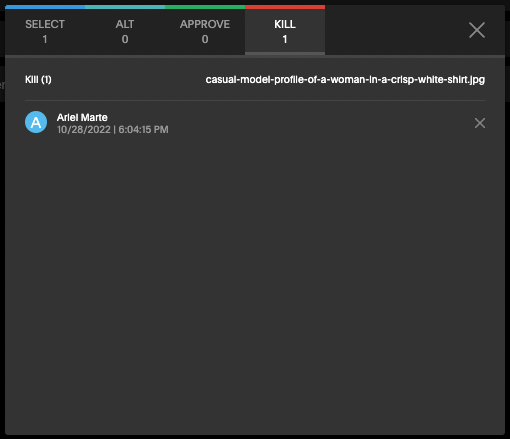 Bulk-Select
Ratings can be changed for single or multiple assets. To select multiple assets, select Control / Command and select each asset that you wish to add to your group selection. To select all assets, press Control / Command + A or select Select All within the platform. Then rate the assets with any rating system. By bulk selecting rated assets then selecting any asset rating, the asset ratings will then be deselected.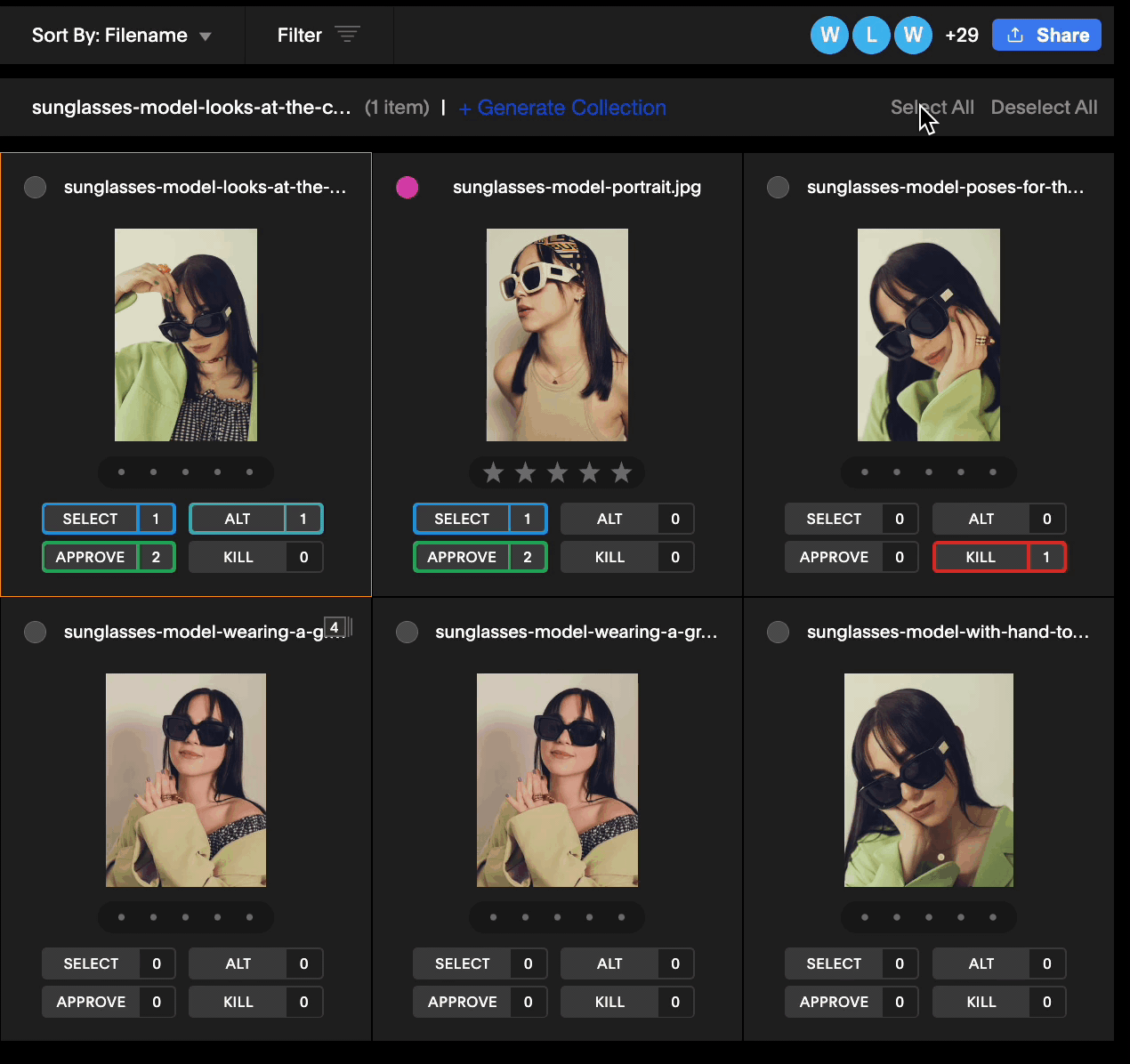 We're here for you!
If you have any additional questions, please don't hesitate to let us know!
Email: support@globaledit.com
Phone: (888) 433-4801
Hours: Monday - Friday 9AM to 9PM Eastern Standard Time