Increase or decrease the thumbnail size of your assets in the library by using the Grid Zoom tool. Zoom by 50%, 100% (default), 150%, or 200% to see asset thumbnails larger or smaller. The zoom setting will carry over between Accounts, Workspaces, Folders and Collections.
The grid zoom function is specific to an individual user. If you are zoomed in to 200%, it will not affect any other user within the account. This is also true for your browser, if you are logged into globaledit through more than one browser, the grid zoom in one browser will not impact the grid zoom of the other.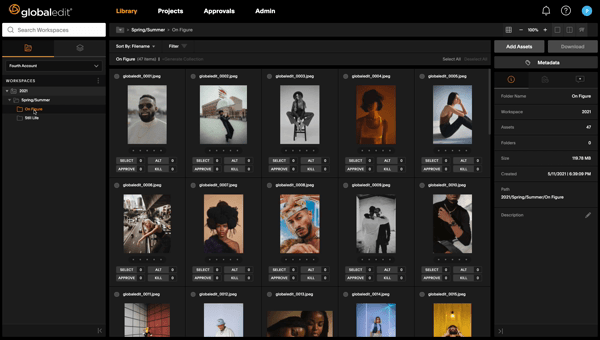 Troubleshooting
If you find that your assets are looking grainy or out of focus when zoomed in, be sure your browser is not zoomed in as well. You can check by using the keyboard shortcut CMD (+) or CMD(-) for Macs and the CTRL key and the scroll wheel on your mouse to ensure your screen is at 100%.
If you are having problems with the grid zoom not sticking, please clear your browser cache. This will reset globaledit back to default. Please note, when you clear your cache, you will need to login and input your 2FA authentication.

We're here for you!
If you have any additional questions, please don't hesitate to let us know!
Email: support@globaledit.com
Phone: (888) 433-4801
Hours: Monday - Friday 9AM to 9PM Eastern Standard Time