Overview
Collections are like a playlist of assets. Group assets across your Library into a separate, single location for additional organization and collaboration. A Collection is private to the creator until it's shared with other users, who's permissions are controlled on each Collection shared. Adjustments and updates to assets within a Collection are recorded throughout your Library, preserving all workflow history wherever the assets are visible.
When to create a collection:
"I'd like specific users to only see and/or download assets I share with them"
"I want to send assets to my retouchers so they can use the Photoshop Plugin, and so I can quickly review new Versions they upload."
"I need to deliver final assets to my client for download and want to avoid them shifting through folders in our Workspace to find them."
"My team needs a single location to collaborate on the specific assets involved in our project."
"I need to focus my (and others) attention on only 25 assets out of the hundreds uploaded to my Workspace."
Create New Collection
Select asset(s) for your Collection, Right-click, hover over Collections in the dropdown menu, then select Add To New: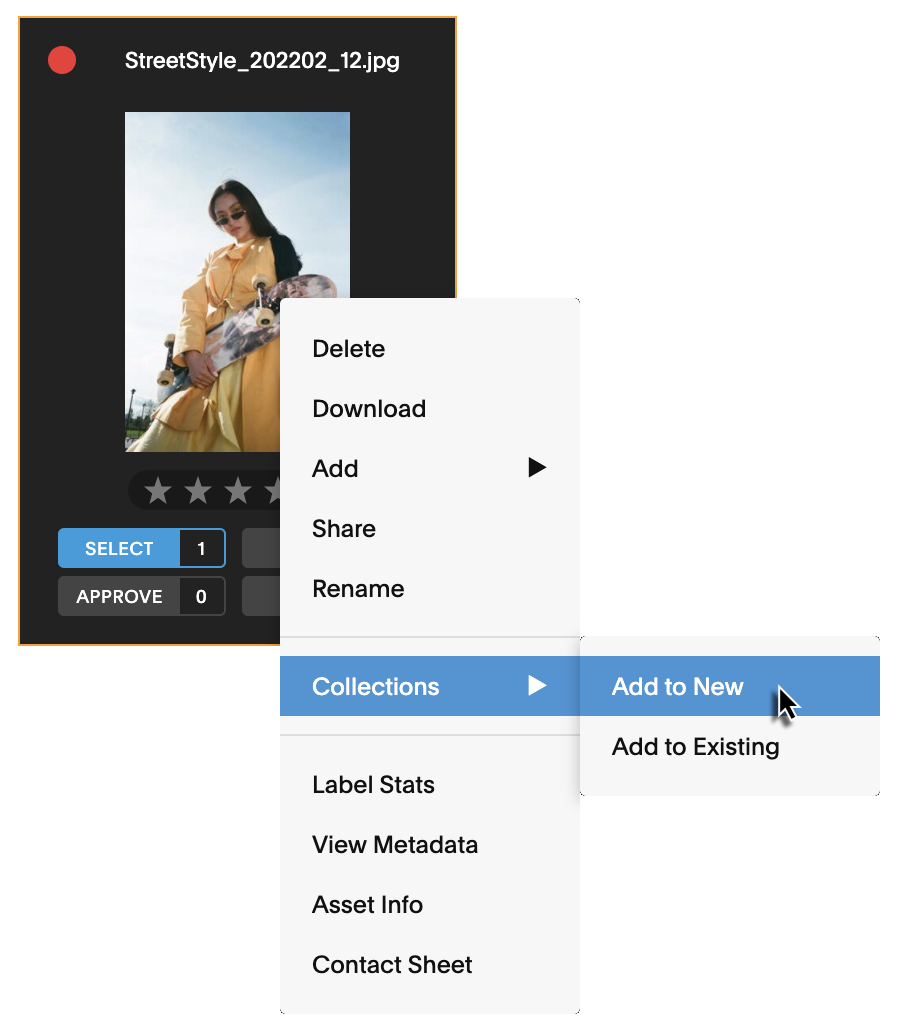 You can also select Generate Collection at the top left of the Library once asset(s) are selected.

Name your Collection, then select Save at the bottom of the window.
Add Assets to an Existing Collection
Select assets, Right-Click, hover over Collections in the dropdown menu, then select Add To Existing: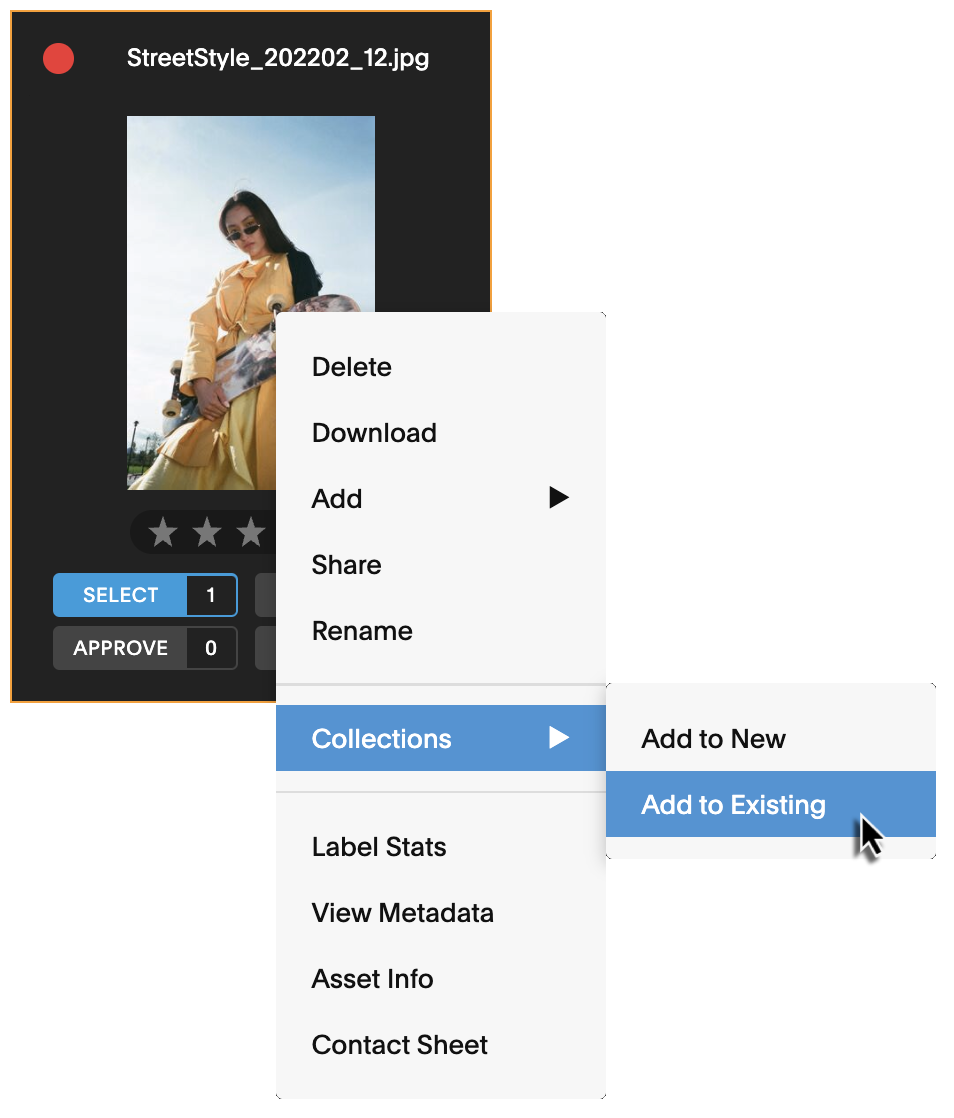 Check the box next to the existing Collection you'd like to add assets to, then select Add: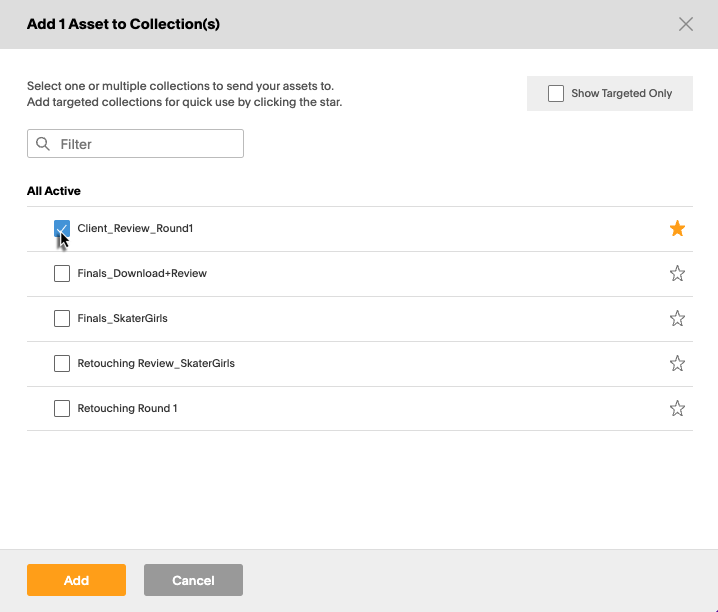 You can target an existing collection within the window above by selecting the Star icon. This will place the targeted collection into the dropdown menu as a shortcut to adding assets going forward:

Accessing Collections
A notification will appear at the bottom left of your window once assets have been added to a new or existing collection. You can quickly navigate to the Collection by selecting the link in the notification: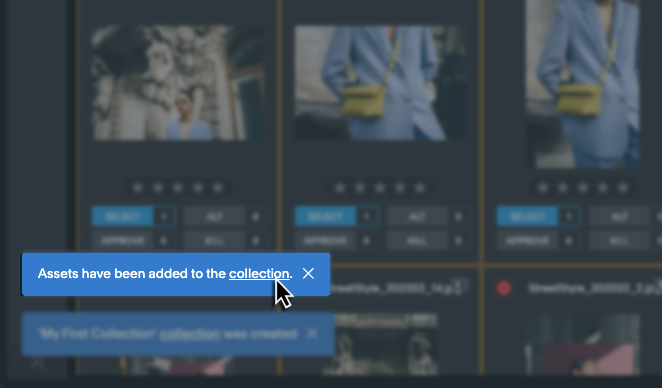 You can also select the Collections tab above the left panel to access your collections anytime: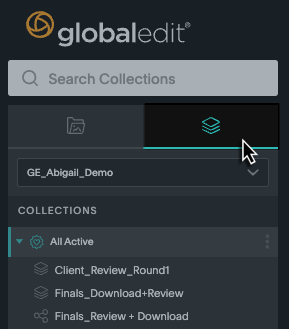 (Starter Plan) Sharing Collections
Select a Collection within the left panel, then select Share at the top right of the window:
Add the user(s) you'd like to share the Collection with, apply a Role, then click Share: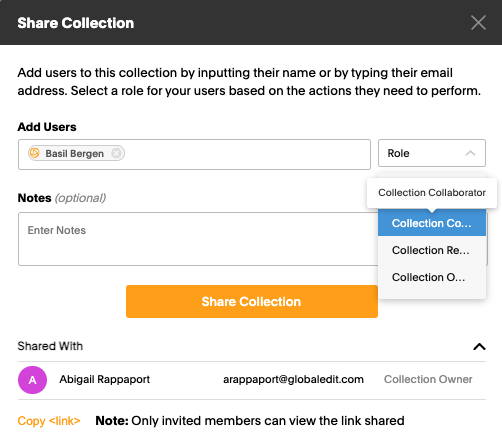 | | |
| --- | --- |
| Collection Owner | Full Policies, Add & Manage Users |
| Collection Asset Creator | Upload (Versions & Attachments), Download, Remove Assets from Collection, Markup, Comment, Modify Metadata, Modify Ratings, Contact Sheets |
| Collection Collaborator | Markup, Comment, Modify Ratings, Create Contact Sheets |
| Restricted | Comment, Ratings Hidden, Watermarks |
The Collection will be available to the recipients once logged in. They will also receive an email notification with a link to the collection once shared.
We're here for you!
If you have any additional questions, please don't hesitate to let us know!
Email: support@globaledit.com
Phone: (888) 433-4801
Hours: Monday - Friday 9AM to 9PM Eastern Standard Time