Overview
Globaledit Sync is a FTP-style application which can be used in conjunction with globaledit to facilitate efficient handling of large scale uploads.
Seamlessly upload while on set. Assets can be reviewed globally in real time!

Upload larger batches of assets without browser limitations
Recreate a folder structure in globaledit automatically

Designate a local hot folder to and transfer assets to globaledit in real time

Automatically upload additional assets without a separate upload, Sync will read for you new files!

Run multiple syncs simultaneously to separate destinations in globaledit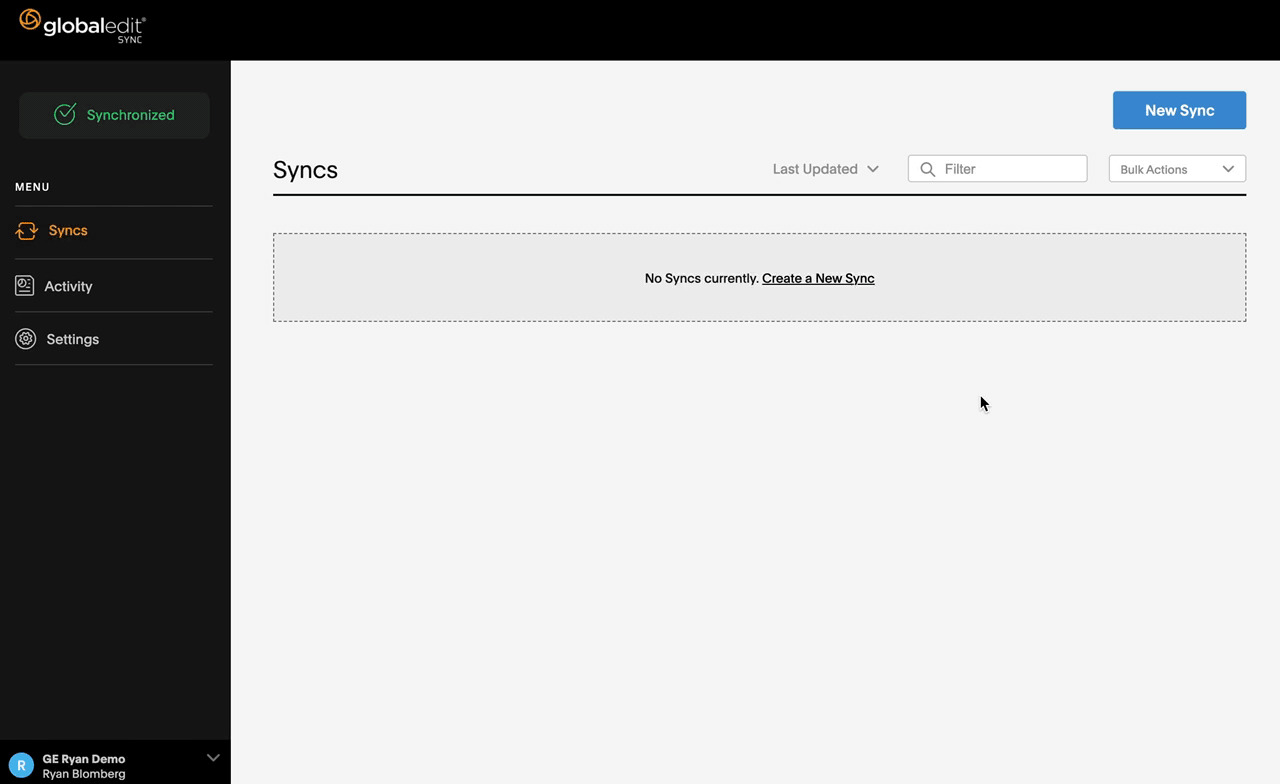 Walkthrough
Install the application, open and sign in.

You will have access to the same library structure you have in globaledit.

Create a New Sync.

NOTE: By default, duplicate files will be ignored and your upload will start automatically. If you use copied files, i.e. same SKU in multiple folders, Uncheck the Ignore Duplicates box to avoid skipped files

Drag or select a source folder of assets to upload from. Sync will continually upload new assets added to this folder.

If adding attachments, select the Attachments folder. Attachments must have the same filename when uploading in bulk.

Select a folder in globaledit and Set As Destination. Either choose an existing folder or create a new folder directly in Sync.

Click Save Sync to start the sync and begin your upload!

Features
Account specific direction
Sync is directed to point to specific accounts, for granular direction and control of the upload.

This also alleviates time as the upload is focused and not scouring the entirety of your organization
Customization of File Import
You have the ability to list file types you'd like to exclude from import per Sync.

This enables you to export multiple file types to a hotfolder and then just pick what you

don't

want to import.

This feature is found under

SETTINGS > RULES
Within Sync, you can export a report of the specific details regarding this Sync for metrics review, data/workflow management, and troubleshooting.
You have the ability to set GE Sync to look for new assets to upload on a continuous basis or within dictated timeframes

This feature is found under

SETTINGS > SCHEDULING


Skip Specific Filetypes

Automatically skip specific file types, set your notifications and more in Settings
Sync Activity Notification
Preferences for how often they Sync creator receives progress email notifications can be set to either NEVER, or on a continuous basis, based on hours/minutes

These can be set for either All Activity or only Warning notifications

This feature is found under SETTINGS > NOTIFICATIONS
Newly Added Features (version 2.0)
Beginning with version 2.0, Sync will prompt an update for new iterations of the tool with each login

Additionally, There is a "check for updates" option in the main menu

** NOTE: When updating to 2.0 from an older version, keep in mind that any existing syncs will be removed and need to be set up from scratch. We recommend finishing any existing syncs before updating to 2.0 to ensure that all assets get uploaded properly. Version 2.0 and future versions will auto-update and will not remove existing syncs. **
You can now check which version you are using in "About globaledit Sync"

Additionally, the icon has changed from black & orange to white & orange, which can also identify the most up to date version
In our latest version, you can quit and relaunch and Sync will keep you logged in.
Attachment Upload

You are now able to include attachments to your upload alongside the source asset.
Ratings and Color Tags
Star ratings and color tags made in external programs such as Capture 1 and Bridge will be retained upon upload.

TIP: Be sure to check the Rating and Color Tag metadata checkbox in your Capture 1 process recipe to retain these ratings within globaledit.

NOTE: Color ratings in Adobe platforms such as Bridge or Lightroom have text associated with certain colors, i.e. Green means Approve. If you do not wish to retain these ratings in globaledit, please remove the color labels prior to upload. For information on removing the ratings after upload, please visit the Removing Label Ratings After Import page
Best Practices
Additional detail on optimizing your Sync use in globaledit Sync Best Practices
Troubleshooting
For a detailed troubleshooting tips and notes, visit globaledit Sync Troubleshooting